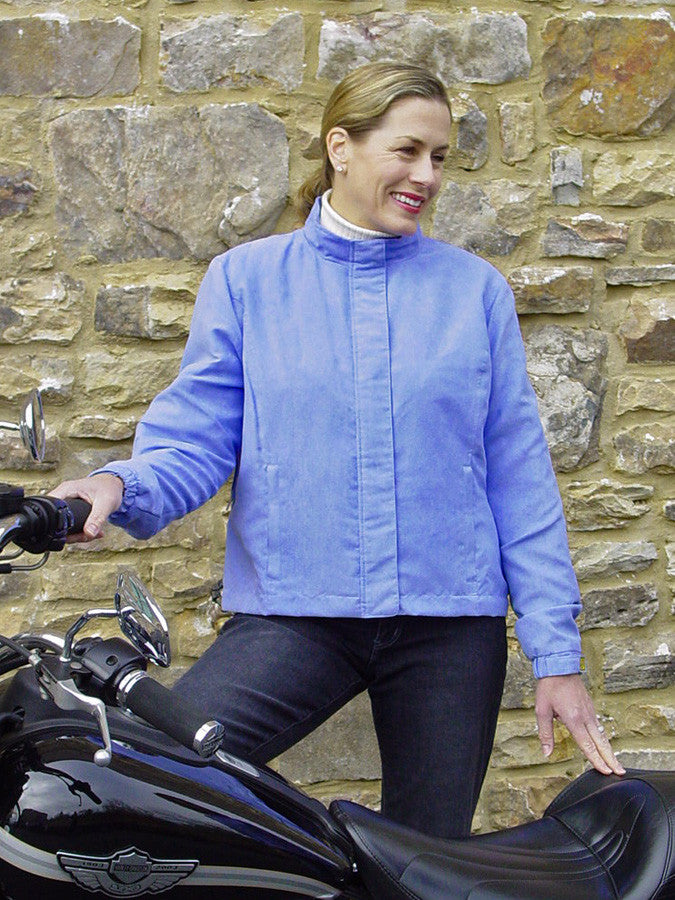 Day-Tripper for Women: Solid Shell with Satiny Lining
Classy Rider brings out a woman's feminine side with a lightweight cruiser jacket designed just for her.  Sophisticated colors are designed for the women riders and passengers who are looking for a jacket that looks as great off the bike as it does on. 
The jackets have all of the armor concealed inside, like all Classy Rider jackets, but are cut to flatter a woman's figure.  The jacket flares out at the hips to accommodate the normal straddle spread while providing a slenderizing line for when you're off the bike shopping, browsing, going to work and eating out.
The Day-Tripper comes in three colors and has a breathable satiny-lining to give a bit more thermal warmth without the bulk.  It's idea for riding in temps of 50 - 80 degrees.
Here's a list of all the features that help to keep you safe on the road:
1000 denier DuPont Cordura protection sewn along the 'skid-zones' in the sleeves with zippered pockets that hold flexible EVA elbow pads in place
A removable abrasion-resistant back-piece that holds a low profile EVA foam spine pad - You can easily remove this piece and stow it in your saddlebag to convert this to a great looking jacket for when you get where you're going
4 pockets inside to hold wallet, keys, cell phone, sunglasses, comb, maps and more
Zippered side vents
Gusseted back extension for easy upper-body mobility and
Longer sleeves to accommodate the handlebar reach
Adjustable wrist bands for added comfort
The jacket has been trimmed-in through the ribs to prevent wind-billowing
High loose collar to deflect the wind
Small but visible reflective patch on the back enhances visibility to other drivers
BEST OF ALL - Just machine wash & dry - no kidding! And, the jackets won't spot from the rain
Now you can have the protection you need without the bulk!  If you're looking for something for warmer temps, check out the OMG Jacket!
PLEASE NOTE:  CLASSY RIDER JACKETS ARE 'REALITY SIZED' - FOR REAL RIDERS; SIZE IN PARENTHESES ARE HOW THE JACKETS COMPARE TO DEPARTMENT-STORE SIZES.
Comfortable, lightweight, flattering, machine washable with armor - What more could a woman want?