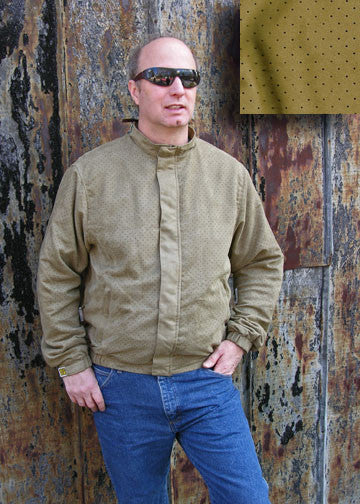 OMG Jacket: Perforated Shell with CoolMesh Motorcycle Jacket
"Oh my God!  This is so comfortable!  And, it has protection!"  This is what we hear when a rider first tries on a Classy Rider jacket so we decided to name our newest jacket the OMG Jacket (tm) to honor our customers' reactions.
While all Classy Rider jackets are very lightweight - about 60% less than leathers - riders were asking us for something even airier for summer riding.  With the OMG jacket, we've achieved that goal.  The NEW Classy Rider perforated jacket has a shirt-weight perforated shell and an airy CoolMesh(tm) lining to provide air-flow for those sunny, hot riding days. but that's just the beginning.
Concealed inside every jacket you'll find all the protection and features you expect:
1000 denier DuPont Cordura protection sewn along the 'skid-zones' in the sleeves with zippered pockets that hold flexible EVA elbow pads in place
A removable abrasion-resistant back-piece that holds a low profile EVA foam spine pad - You can easily remove this piece and stow it in your saddlebag to convert this to a great looking jacket for when you get where you're going
4 pockets inside to hold wallet, keys, cell phone, sunglasses, comb, maps and more
Zippered side vents
Gusseted back extension for easy upper-body mobility and
Longer sleeves to accommodate the handlebar reach
Adjustable wrist bands for added comfort
The jacket has been trimmed-in through the ribs to prevent wind-billowing
High loose collar to deflect the wind
Small but visible reflective patch on the back enhances visibility to other drivers
BEST OF ALL - Just machine wash & dry - no kidding! And, the jackets won't spot from the rain
Now you can have the protection you need without the bulk! The perforated jackets (Tan-Airy and Earth) feel great in hot temps (70 - 95 plus degrees).
If you're looking for something warmer, check out our Black and Bronco Brown jackets that are a tad heavier-weight and perfect for spring, fall and cooler temps (55 - 85 degrees); Also check out the Purple Haze and Royal Blue jackets which are a light-weight ultra-suede with mesh linings, and are perfect for warmer temps (70 - 90 degrees).